Metamorphosis Landscape Design… changing the way you look at landscaping.
Award-winning Metamorphosis Landscape Design is proud to be ranked among the top premier landscaping companies on Long Island.
Metamorphosis Landscape Design has been changing the way people look at landscaping for over the past 10 years. What sets Metamorphosis apart from the rest, is our step by step interaction with each client. We never want any potential client to feel like a number. We strive to include them in every step of development. From the first meeting with a client, we will walk the grounds with them and take in all of the items they wish to have addressed or make suggestions for the client, if they are not sure how to get to their design destination. From there, our design team will work with each client, so they may see the potential for their property. The client and designer will work together to get the exact look and feel for their individual taste.
Investing in the outdoor space of your home can sometimes be overwhelming, and Metamorphosis specializes in addressing distinctive styles. Not all homeowners find the same materials, plants or layouts aesthetically pleasing. An English garden and an Oriental garden may not appeal to the same personality; even colors are very specific to some personas. We do not make a practice of installing a generic label of "plants"; we work with the client's sense of self and identify what they would consider appealing to their personal taste.
In addition to flora, we have excessive knowledge with hardscapes. We work with materials such as Unilock, Techo-Bloc, Cambridge, Bluestone, Travertine, boulders and cultured stone. Again, we listen to our clients' needs. Simply submitting a piece of paper for a quote, when the clients cannot see what the final vision will be like, would not be conducive to either party. The evidence of our work can be seen in hundreds of homes across Nassau and Suffolk counties. To our accreditation, we are LINLA award winning design and installers for outdoor living spaces.
Your home is your haven. After a day out in the world, walking into your lovely home is very soothing. We specialize in extending that feeling of comfort to the outside of house. Features such as outdoor kitchens, patios and fireplaces give you the option of dining outside in the spring, summer and fall months. These are very popular, especially to those with large families, or people who entertain often. Sometimes, events such as graduation parties, or just large family gatherings arise, and everyone might not fit comfortably inside the house. With an outdoor living space, you can allow for a larger crowd without the crowd.
Whatever your outdoor living dreams are, call us today at 631-673-6382 for your free consultation. We are looking forward to meeting you!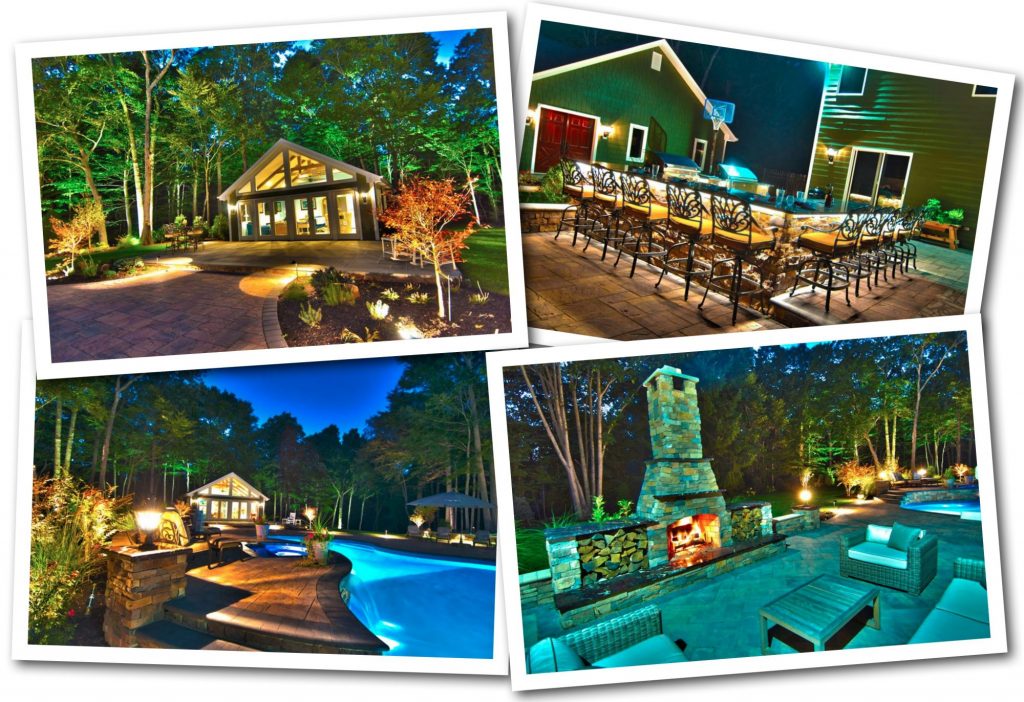 At Metamorphosis Landscape Design it is our goal to change the way you look at landscaping. How we do that, is quite simple…we listen.
We listen to your needs, your ideas, and your desires for the property that you've always wanted.
Our experience in the designing and building of landscapes allows us to educate our clients about the entire process. Not just telling them what is going to happen but rather working with them on choosing the correct materials, understanding their options, and maintaining a sincere budget proposal.
We believe all successful projects begin with thorough planning. A comprehensive landscape plan ensures all aspects of design and construction are addressed. Our award-winning design team works with you, the client, until all your desires are met. And we are very happy to work with you in stages or phases as needed to make sure that your outdoor living space is perfect for you and your family.
Our Process
In addition to being renowned for our skilled craftsmanship and intricate designs, we pride ourselves on a timely production schedule.
A staff member will be assigned to your project and will be in constant contact with you, ensuring communication at all times.
When your project is nearing completion a project client walk through is scheduled. This ensures your complete satisfaction. When you agree that the job has reached perfection only then do we know our job is complete.
Please give us a call at 631-673-META (6382) to schedule your free consultation.